Dried Molasses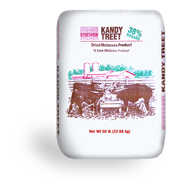 Kandy Treet is ideal as a silage sweetener and preservative. It also stimulates appetite and enhances growth and productivity. Use Kandy Treet to enhance the palatability of most feedstuffs including roughages.
Dried molasses can be added to just about any feed supplement for livestock as a sweetener and promote that "picky eater" to begin consumption of an otherwise neglected, but beneficial supplement. Such example would be a Horse Mix or Goat Mix although the two are primarily utilized as a top dressing. Molasses also is used to fatten livestock up before the sale.
While the use of dried molasses is primarily targeted for livestock use, for gardeners, molasses can work as a carbohydrate source to feed and stimulate microorganisms. And, because molasses (average NPK 1-0-5) contains many trace minerals, it can serve as a nutritious soil amendment. Molasses is also an excellent chelating agent.
I've also read where dried molasses has been used to control or exterminate fireants.
Guaranteed Analysis
Crude Protein
minimum
6.00%
Crude Fat
minimum
0.50%
Crude Fiber
maximum
20.00%
Total Sugars (as invert)
minimum
38.00%
Ash
maximum
11.00%
Ordering
There are three easy ways you can order this product: By check, money order or via PayPal. If paying by check or money order, please remit amount for the item and quantity you would like to purchase to:
Gary Pfalzbot
c/o GoatWorld
14685 County Road D
Ordway, CO 81063
Please be sure to include the amount of insurance you would like to add to your order and please include a list of the product(s) you are ordering. Your phone number will also be helpful if I need to contact you concerning your order.

If ordering by PayPal, please use the main page where all products are listed.