Linseed Meal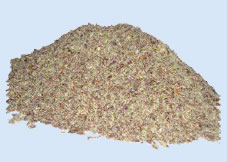 Linseed meal is the byproduct of extracting the oil from flaxseed. Linseed Meal is one of those supplements that is widely recognized when mentioned, but not fully understood when it comes to how it may be beneficial.
What's it good for?
Well for starters, it is a good alternative to soybean based diets. It's also a good source of selenium at 1.0 ppm.
For a number of years, linseed meal was (and still is to some degree), one of the chief "protein rich" feed stuff or supplement available, providing 34% protein. When soybean, with a higher protein level, and easier to market characteristics became popular in both large and small mills, linseed meal took a back seat though many dairies are still reluctant to use anything other than Linseed Meal for their "high protein" diet.
In terms of selenium, Linseed Meal and its counterpart Seaweed Meal (kelp), these are perhaps the most commonly recognized products as far as providing selenium. The amount of selenium in each is nearly equivalent, with the only real differences being the type of trace minerals available in each. Seaweed Meal has more. And while there are "other" selenium supplements available, the one I mainly use is known as SelenoSource AF2000.
Supplementing Selenium
For all practical purposes, the Goat and Horse Mineral Mixes I offer require 2 pounds of Seaweed Meal to complete an 18-1/2 pound batch. In working with customers who are experiencing selenium deficiencies in their area, in some cases it has been best to obtain more selenium in the mix by one of the following methods:

#1 by adding additional Seaweed Meal into the mix - 1 to 2 pounds.
#2 by adding Linseed Meal into the mix - 1 to 2 pounds.
#3 by adding both Linseed Meal and Seaweed Meal - 1 to 2 pounds.
#4 by adding SelenoSource AF 2000 to the mix - 1 to 2 pounds.

Ingredients:
Salt, dicalcium phosphate, calcium carbonate, molasses products, mineral oil, magnesium oxide, ferric oxide, copper sulfate, zinc oxide, vitamin E supplement, manganese sulfate, vitamin A supplement, ethylenediamine dihydriodide, cobalt carbonate, calcium iodate, sodium molybdate, vitaman D-3 supplement, manganous oxide, ferrous carbonate, zinc sulfate, sodium selenite. Ruminant and bone meal free.

Free Choice or Added Supplement
While most reading this will likely have an interest in goats, they will understand the difference between offering something "free choice" as opposed to an "added supplement". The relatively low cost of Linseed Meal makes it an attractive prospect to leave out free choice, and offering a small amount free choice from time to time may be of some overall benefit. But it might not be the wisest thing to do... The thing to be aware of is the high protein nature of Linseed Meal, and offering something like this free choice in ample quantity may prove to be costly. Linseed Meal is perhaps better utilized as an addition to an existing mix as discussed when trying to round out selenium needs vs. protein needs vs. fiber needs, etc.

To get a better understanding of selenium, you may want to check out this article: Selenium: The Facts

Typical Solvent Analysis
Calcium (Ca)
0.4%
Dry Matter
91.0%
Crude Protein
34.0%
Fat
1.5%
Crude Fiber
9.3%
Phosphorus
0.9%
Neutral Detergent Fiber
22.7%
Acid Detergent Fiber
17.3%
Total Digestable Nutrients
70.0%
Net Energy Lactation
71.8 Mcal/100 lbs.
Canadian Residents: This product can be shipped to Canada. The price for shipping is dependent upon location and overall weight of package. General guidelines indicate an approximate 6 to 10 day shipping time based upon Canadian Customs. For more information, please email gary@goatworld.com. Please be sure to include your full address including Postal Code.
Ordering
We no longer accept PayPal for livestock and mineral orders. (Click here for more info) To pay by check or money order, please remit amount for the item and quantity you would like to purchase to:
Gary Pfalzbot
c/o GoatWorld
14685 County Road D
Ordway, CO 81063
When ordering, please include a small note regarding what you are ordering.
If you would like a tracking number from the USPS, please be sure to include your email address.
All prices INCLUDE SHIPPING. No additional charges will be billed to you.